If you are tired of the nicks and cuts you get each morning from your shaving razor, then, you are in the right place, because in this review, we shall be looking at the best electric shaver, and its about time you upgraded.
Now, imagine having a smooth pristine and kissable face, or a nicely groomed beard, or legs so smooth you could roll a penny off them. Too good to be true? Well, if you are still using razors or blades, you may not understand this, but, with a good electric shaver, this is all achievable, because they are designed to cut even the tiniest of hairs from your body.
In addition to all that, they will not give you rashes or skin irritations.
They fit perfectly in your hands and offer you great comfort while you groom yourself. You therefore no longer need to keep buying a razor every week because electric shavers can last you for years without the need for replacement.
17 Best Electric Shaver 2020
1. Braun Series 9 9293s – Best Luxury Foil shaver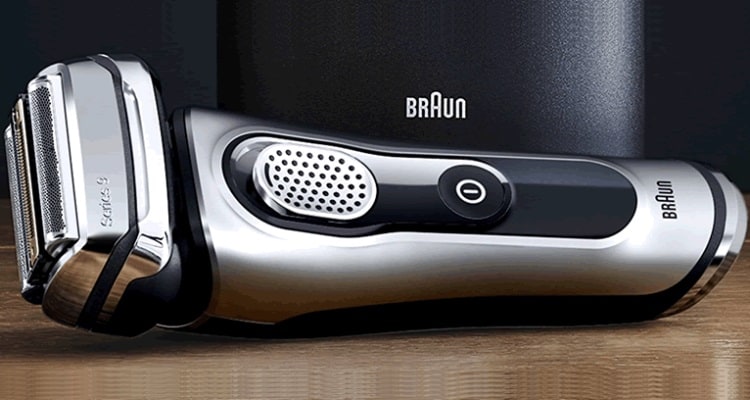 When it comes to Braun, you can never go wrong. This is a company that has established itself in the shaving business for many years, and most people believe their products to be the best. This specific Series of electric shaver comes with many features:
It is, in fact, an improvement of an earlier series 9. You will be forced to pay more for this shaver, but it is worth the money.
Main features:
It comes with sonic and auto-sense technology that when coupled with the 10 directional shaving head is able to move flexibly on the contours of your face and covers the neck and chin for an extra close and clean-shaven look.
Uses micro-motion technology that carefully moves each element of the shaving system in order to move the razor whichever way you want across your face.
Comes with 2 incredible trimmers that allows you to capture even the trickiest of hairs. This also helps you groom your mustache and sideburns to your liking.
Comes with 5 shaving elements to give you nothing but comfort as you shave.
Can be used both wet and dry, meaning you can use it in the shower and also include a shaving cream for your sensitive skin or use it dry and quick on the go.
It comes with a charging stand which minimizes the amount of space you need in your bathroom for storage. This also guarantees the shaver is always fully charged and ready for use.
When fully charged, it can give you up to 50 minutes of cordless shaving time. Perfect for when you want to travel.
Why we love it:
If you constantly experience skin irritations as a result of shaving every day, we highly recommend this electric shaver, as it is designed for sensitive skin. Plus, you are able to use it with your specialized shaving creams to give you that great, smooth feeling each and every day. For this reason, it is our top pick for excellent foil shavers.
Solid construction: This is an electric shaver scored very well in our design test. Almost all the customers were excited about the look and the fact that it was highly durable.
No nicks and cuts: On this area, the shaver scored very highly. The majority of the customers who tested this shaver reported back after using it for a while and there were literally no cuts or nicks recorded. This makes it a highly rated shaver on our list.
2. Philips Norelco 9700, S9721 – Best Luxury Rotary shaver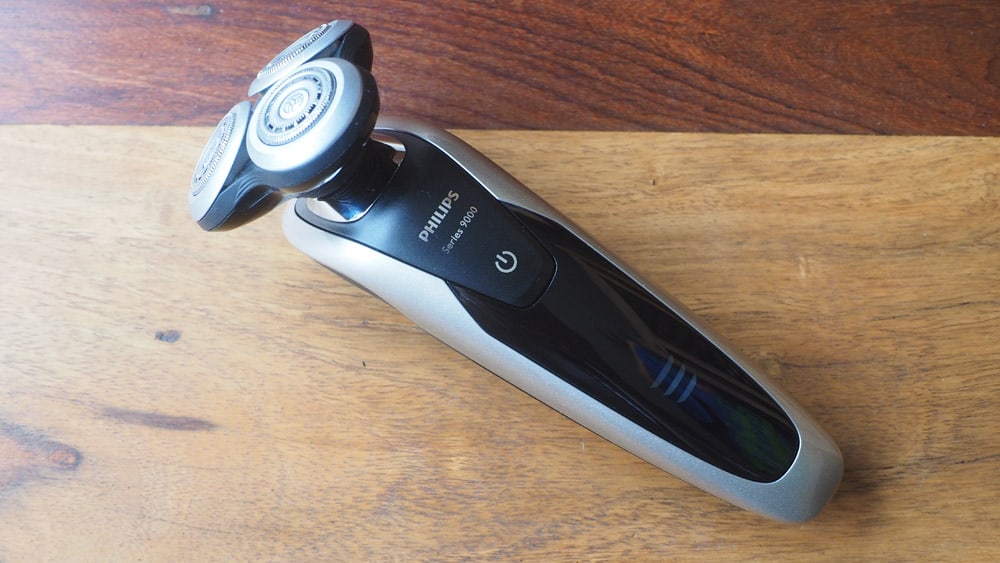 This is one of the best Rotary shavers that we tested, and it was found to be very gentle on the skin. It also has an anti-friction coating that allows you to follow your face carefully in order to cover even the hard to reach areas.
Features:
It comes with a 50-minute battery life that is actually equivalent to 17 – 3-minute shaves. It doesn't come with a corded option, but the quick charge feature is very effective. You only need to plug it in for a few minutes and it is ready for use.
The contour detects technology makes use of 3 shaving heads that are able to flex in 5 different directions. These allow you to carefully follow the contours of your face and achieve a smooth shave. This technique also cuts 20% more hair in a single stroke.
It has V-track precision blades for capturing all hairs regardless of their length.
It has comfortable settings that allow you to choose the best speed setting for you. You can choose a gentle yet thorough shave or a normal shave.
With the inbuilt smart clean system, you need to only touch a button and it will lubricate, clean and dry the shaver. This makes it ready for use any time.
The blades are surrounded by some comfort rings which help protect your sensitive skin from irritations.
With the aqua tech technology, you are able to enjoy either a wet or dry shave.
Deluxe case: It comes with a beautiful and sleek deluxe case that you can use to store the shaver when not in use. This also acts as a ventilation chamber that helps dry the shaver and you can comfortably use it while traveling.
Why we love it:
The contour detects technology was the big winner here. It enabled the shaver group to actually enjoy some very serious contouring on their faces. If you want to accurately target the neck and chin, which are actually hard to reach, then, this is the best shaver for you.
Another area that makes this shaver shine is the deluxe case. Every one of the group members was impressed by how attractive it was, and the fact that you do not have to keep the shaver on top of your bathroom sink, but rather store it in the case and keep it away safely.
Finally, the cleaning system did not disappoint. This feature scored highly with the group. It is so stressed free to complete your shaving and just keeps it in the cleaning system. Excellent feature, a perfect machine.
3. Panasonic ES-LV95-S ARC5 – Best for very thick hair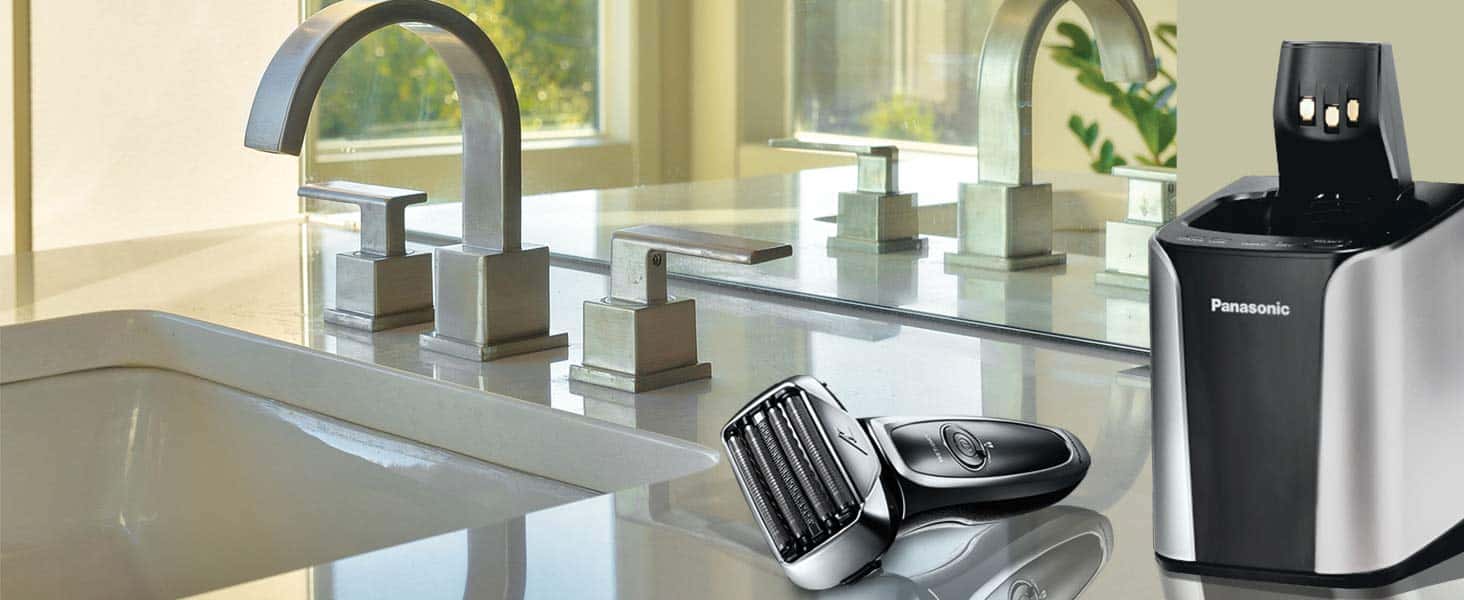 Panasonic has been around for centuries and this company always provided high-quality products. With this electric shaver, you are assured of nothing but the best performance for your very thick beards.
Here are some of the features we found with this shaver:
It has 5 ultra-thin and ultra-sharp blades that are able to cut hair cleanly from the base.
It uses active shave sensor technology that is a very advanced system for detecting the different beard densities. Once it detects this density, it is able to adjust the power flow by either accelerating or softening depending on whether the beard is heavy or not.
With the multi-flexing and pivoting shaving head, this electric shaver can be able to move side to side or back and forth following closely the contours of your face. This targets your jaw and neck for a very clean shave.
With its precision pop-up trimer, you can be able to quickly and easily deal with your sideburns or mustache.
It is waterproof and can be used both wet and dry.
It has a 10 stage LCD display that clearly indicates the battery life, charging status and other reminders such as the cleaning unit and replacement of blades.
It comes with a travel pouch and travel lock to make your traveling easy.
Accessories: When you purchase this shaver, it will come equipped with the following accessories – a charging station, a cleaning unit, a detergent cartridge, a foil guard and an AC recharger.
Finally, it has a high-performing motor that comes with a linear drive that is able to make 14,000 cuts a minute.
Why we love it:
We love this electric shaver because it is designed for extra thick hair. It has the ability to cut through any length with its ultra-thin blades that specifically target the base of the hair. With the long-haired focus group, this shaver was able to give them a very clean-shaven look.
Another feature that made this electric shaver popular is the fact that it is very easy to use. None of the focus group members looked at the manual as the shaver is pretty straight forward and anyone can actually be able to use it. In addition, the cleaning unit did not hurt at all.
For the traveling members of the group. The travel lock and pouch were a bit hit and everyone basically recommended this shaver.
If you love large LCD screens, then this is the shaver for you. The screen made it even more appealing as it was able to clearly show the status of the battery and even the cleaning mode.
4. Braun Series 7 790cc – Best for sensitive skin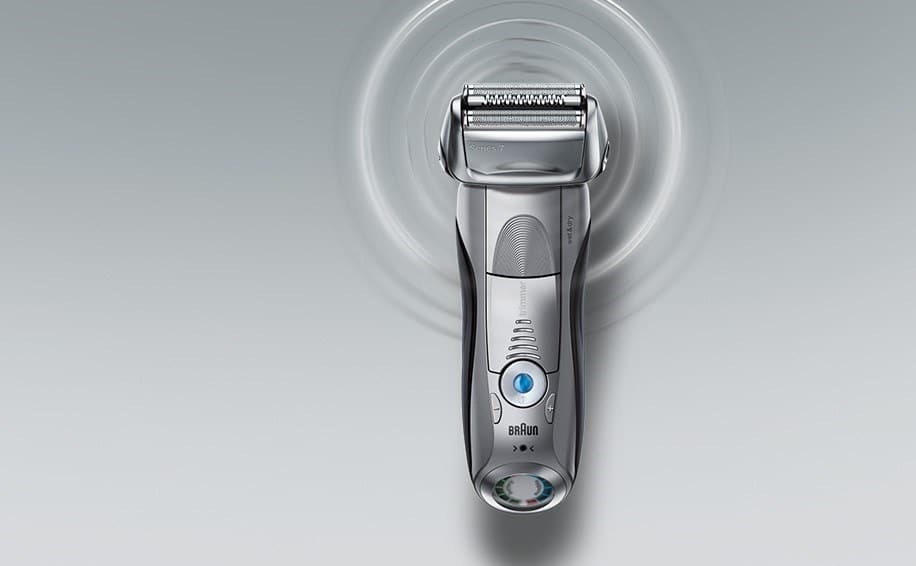 The Braun Series 7 is not only an impressive machine, but it is also very high performing and has been named the best electric shaver. It comes equipped with very many features.
Features:
This is a very high-quality shaver equipped with 5 shaving modes and 4 synchronized shaving elements that will clearly and cleanly shave any facial hair, regardless of how dense it is. Its cost may be high, but it is more than worth the investment.
Sonic and auto-sense technology: It uses 10,000 micro-vibrations and a shaving motor to help capture as much hair as possible with every stroke. This works on all types of beards.
Contour adaptation: It has floating shaving elements, and 8- directional flexible heads that gently adapt to your skin and helps you to move all over your face to capture hair on all corners especially the jaw and the chin.
It comes equipped with 5 sensible turbo modes for personalized shaving.
It is 100% waterproof and can be used both wet and dry.
It comes equipped with a clean and dry station that lubricates and recharges the shaver.
At full charge, this shaver can be able to give you up to 50 minutes of cordless use.
Why we love it:
With the advanced shaving modes and extended battery life, this electric shaver scored very high with the focus group and most of them wanted to just take it home. They were impressed with its shaving ability, and the fact that no hair on their face was untouched. The shaver gave a clean, smooth and comfortable shave.
The other feature that was a big winner with the focus group was the ability to be able to use it both wet and dry. For the sensitive skin focus group, they were able to use their high valued shaving creams easily with the shaver, while the busy professionals were able to do a dry shave in just a few minutes. This is excellent for everyone.
5. Remington HC4250 Hair Clippers – Best for a bald head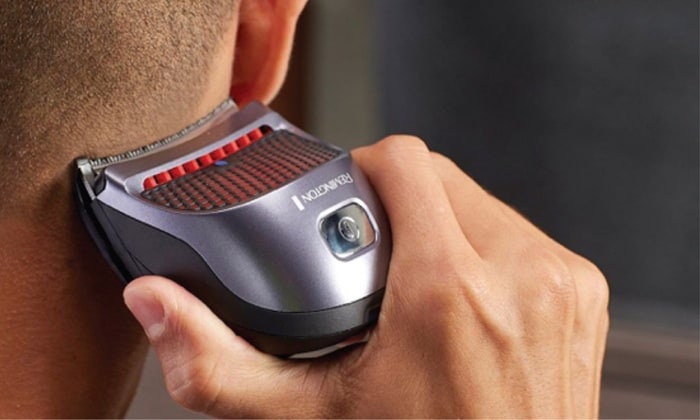 You must handle a bald head with care. This is because the wrong type of shaver can cause some irritations and scratches where it is not supposed to. This electric shaver from Remington is designed for a personal hair cut and it ensures a smooth clean shave of your head.
Here are the main features we found after using it:
The shaver may look small, but it is able to fit comfortably in your hand and allow you to do a professional cut on your hair. The ergonomic design makes it easy to reach the back of your head, behind the ears and even your neckline.
It has a 14-piece kit that includes numerous combs to help you achieve a personalized haircut. The cleaning brush and clipper will also come in handy with your beards and sideburns.
This kit includes; 9 Length-adjusting combs, Hand-held clipper, storage/travel pouch, cleaning brush, oil, and a charging adaptor
Stainless steel blades: These make the shaver worth your money. These blades are sharp enough to cut through the thickest of hairs and they eliminate the pain of pulling and snagging.
With stainless steel, you are assured that this machine will last longer, and it will always be sharp enough to deal with your hair.
The lithium powered battery will give you 40 minutes runtime after charging it for at least 4 hours. This makes it ideal for traveling as well.
It has extra-wide curved blades that can provide a very close shave for maximum efficiency. At the end of the day, what you are looking for is a clean-shaven look and that is what you get with this shaver.
Why we love it:
Compared to the other products on our list, it may seem strange to include this shaver, but it actually rated very high with the focus group. The main problem with baldness is unevenness, where some parts have hair, and others do not. This shaver was able to help the members achieve evenness all over their heads, and as a result, they looked well-groomed.
The size: It is compact and small and it fits perfectly on your hands. This was a big hit with the focus group because most shavers can be quite bulky and tiring, especially when trying to shave the back of your head. As a result, most people get very tired and they give up the whole process. This is simply perfect for your head.
High-quality material. Not only does stainless steel look good, but it also works great. Most products made of this material never disappoint, and this shaver will work efficiently as well.
6. Braun Series 5 5040s – Best for ingrown hairs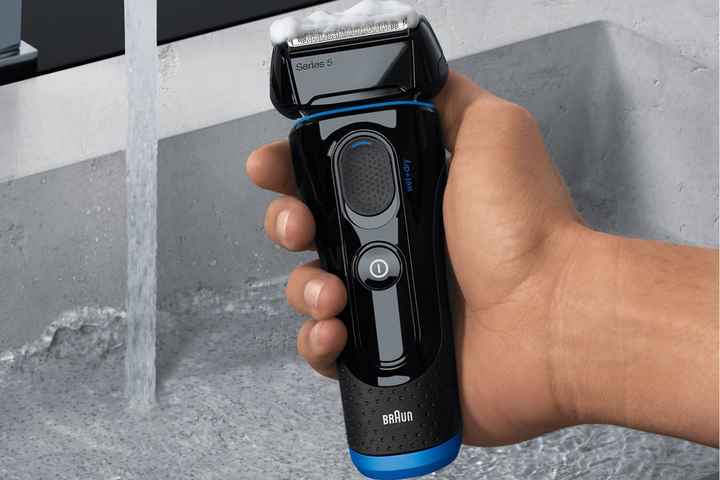 The reason why this shaver is perfect for ingrown hairs is the fact that it uses auto-sensing motor technology that is able to adapt its density to the size of your hair. Once it detects the hairs the motor increases intensity in accordance with the length and that is why we found it perfect for those tiny hairs that tend to irritate.
Other great features we found:
8 directional comfort heads – It comes with flexible shaving heads that are able to adapt to 8 different directions. This gives you a great shave even on dense beards.
It has a double-foil shaving head that is able to cut very close and give a smooth finish. This is made even better by the knife in between the blades. No hairs will be left untouched by the Braun series 5.
Ergonomics: it has a great feel and fits comfortably in your hands to allow for a comfortable shave every time.
Micromotion: This technology ensures that the machine responds to all hairs even the tiniest on your face.
Macro motion: This pivoting shaver is able to effortlessly navigate along with large areas of your face and be able to cover larger areas faster. What this means is that you are able to shave your whole beard within a short period of time.
Now this will shock you. The shaving foils actually come with 899 unique apertures that are able to shave as close as 0.58mm, and this is very smooth. In addition, they protect your skin and keep it smooth for longer.
Why we love it:
Though this is an older Braun model, it is always a good idea to own one. According to the focus group for ingrown hairs, there wasn't a hair left in place, and even the tiniest that was not visible with the naked eye was shaved smoothly and perfectly by this model of Braun.
It is very easy to use, according to the group of users we had chosen. They did not struggle to understand how to switch it on or even how to select the settings.
It was smooth to use and did not give any irritations. This shaver is designed for a smooth cut. It ensures the skin is protected due to the foil, and at the end of the shave, you are as smooth as a baby.
It was better than anticipated. Most of the members in the group did not expect it to perform as it did, but with the 8 directional comfort heads and the whopping 899 unique apertures, this machine more than delivered. It comes very highly recommended.
7. Philips Norelco Bodygroomer BG2040/49 – Best for full-body Grooming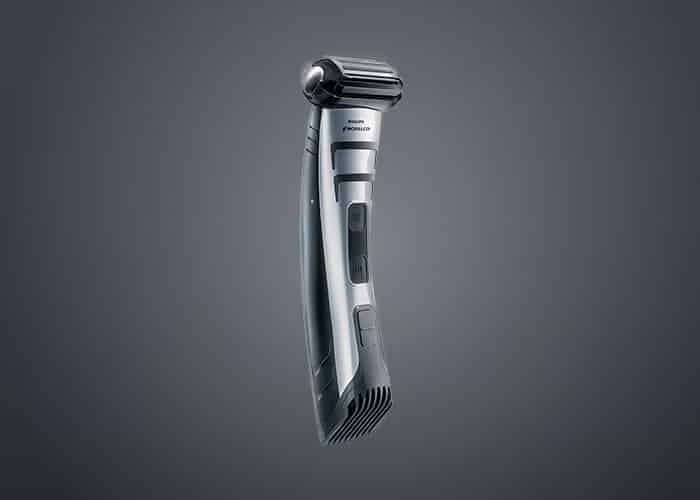 If you are looking for a full-body grooming machine that will give you a clean-cut appearance, then this is the machine for you. The Philips Norelco Bodygroomer is for that person who wants an all in one machine, to deal with every part of their body stress-free.
Here is why we chose this machine:
Dual-end design: At the top of this machine is a 3D pivoting head that is able to the contours of your body for a skin-friendly shave.
The head includes pre-trimmers on both sides for a very close shave.
At the bottom is a high-performing trimmer for refined grooming. This comes with combs and blades that can achieve many length settings as per your needs.
Built for comfort: It has an ergonomic design with soft rubber panels and a comfortable grip that allow you to keep shaving without getting tired.
The wet and dry option gives you the freedom to use it in or out of the shower.
The head acts as a protector and it is made of hypo-allergenic materials that help protect your body from irritations as a result of using the shaver.
The blades are self-sharpening. This is what happens, as you shave your beard, the blades normally brush against each other and as a result, they sharpen themselves, and so there is no need for maintenance.
Cordless and rechargeable use makes them very easy to use. On a full charge, this machine can go on and on for 50 minutes.
LED screen: It comes equipped with a display screen that is able to display the battery status. It will show when the battery is low, full or empty.
Why we loved it:
Other than being an electric shaver, we loved the fact that it is designed to deal with full-body grooming. According to the focus group, this makes the machine extremely cost-effective. You need not buy a machine for shaving each part of your body.
It scored very high on the comfort level. This is because the machine is ergonomically designed to accommodate your hands and it fits perfectly. If you are doing a full-body shave, it doesn't hurt to have comfort in your hands.
The wet and dry option was also a big hit and most of the members in the focus group loved this control. To be able to choose where to use the machine was well received.
The LED screen clearly showed the status of the battery. It is good to have a reminder system so you never forget to charge the shaver. This was also very well received.
8. Braun Cruzer 5 Body Shaver – Best ball shaver

If you want to shave your balls, you better look for a machine that will not disappoint, irritate or leave you with a big mess in your hands such as a bunch of rashes or infection. This Braun Cruzer body shaver is designed for sensitive areas, and this is why we chose it for your most sensitive.
Here are the features that made it stand out:
This shaver gives an extra smooth wet shave. If you are concerned about safety, then you need not be concerned because this shaver has a small trimming element that ensures extra safety at all times.
It comes with 3 combs: You get to choose the attachment you want to use. The combs are designed for different cuts. Sensitive, medium and long. This ensures you are always covered.
Comfortable design: It is comfortably designed to fit perfectly in your hand so you can do the job well and effectively. When shaving sensitive areas, this is a great feature.
Designed for pubic hair: Because pubic hairs are shorter and more painful if not well taken care of, this machine ensures you cut even the smallest of pubic hairs leaving you very smooth and clean.
It does not irritate: It does not cause irritation after shaving, and since it has a wet and dry feature, you can comfortably use it with shaving cream for extra care.
Easy to clean: This is a machine you definitely want to clean after use. It is very easy to clean and all you need is to run it through some warm or cold water and it clears away anything on the shaver leaving it clean for the next use.
LED screen: it comes with a display screen to show the status of the battery. It will clearly show you when the battery is low or full.
Why we love it:
First of all, with Braun, you are always sorted. Their machines always deliver high-quality performance. In this particular case, the focus group reported excellent results as a result of using this shaver. The terrible feeling you get after shaving your balls was not there, and in fact, the skin was smooth to touch and gentle.
There were no reported cases of skin irritations even 5 days after using this shaver. The members of the group were pleased with these great results as they did not suffer any pain also.
9. MANGROOMER Ultimate Pro Back Shaver – Best for your back
This is the ultimate back shaving machine and it is designed with 2 absorber heads, a powered hinge and an extremely easy to reach handle that can extend to all corners of your back.
The name alone tells you why we chose this shaver for your back area, but it also came with the following great features;
Shock absorber flex heads and 2 attachment heads: The head is equipped with a shock absorber and in addition, the neck has a 1.8-inch-long trimmer for an excellent reach.
Power burst: It is able to give extra power whenever you need it to be able to easily cut through thick and coarse back hairs.
Extension lock button: This allows you to adjust the shaver to any length you want. You can choose the most comfortable for your hands and with the lock button, be able to lock it so it doesn't move around as you shave your back.
Patented opening: The design allows a 135-degree opening in order to reach every part of your back easily and efficiently.
Charge indicator: It has a charge light indicator to show you the status of the battery at all times, and especially when you need to recharge it.
Extendable handle: This shaver is not built like the other shavers. It comes with a long extendable handle that allows you to reach your back easily.
Why we love it:
Say goodbye to having to ask for help for your back. This back shaver actually performed more than expected. The biggest challenge that most people face is on their backs and in most cases, the back is left unattended. With this back shaver, say goodbye to hairy backs and say yes to smooth and clean back grooming.
The focus group used was clearly happy with the length of the shaver. The fact that you can actually adjust it to the length you want was very well received.
The power burst was also another great feature that received great feedback from the focus group. They were happy that you can be able to increase the power of the shaver in order to reach all areas of your back.
10. Panasonic ES8243A – Best for the neck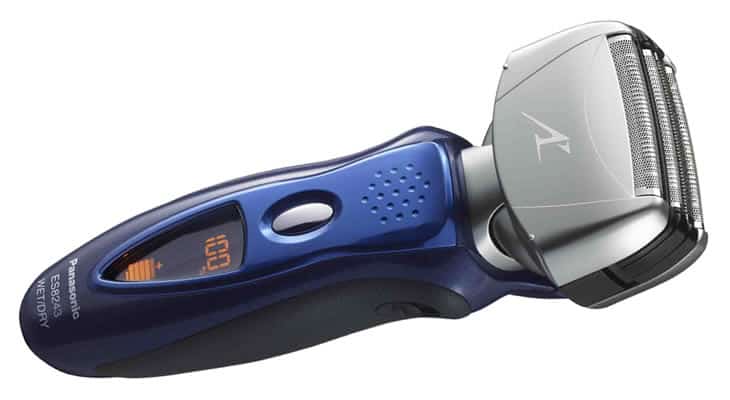 If you have been having trouble trying to get rid of the hairs on your neck in vain, then you need this Panasonic Electric shaver. The reason why it is one of the best for the neck area is that it has ultra-sharp and precision-honed 30-degree Nano blades with an ultrathin foil which is able to closely follow all the contours of your face and especially the neck, for that clean-shaven look.
Other great features:
Wet and dry option – you can choose to either use it in the shower with your shaving creams or use it dry.
Outstanding performance – with the flexible pivoting head, this shaver effectively moves side to side and up and down to ensure a very smooth- and clean look. These movements are also uniform, so, you will not find uneven areas after the cleanup.
High speed – This shaver has a speed of 13,000 cycles a minute. This is definitely better than average. It actually works 1.5 times faster than a regular shaving machine.
Comfort while grooming – The machine is gently curved to give it a smooth glide along the jawline for maximum effect.
Stainless steel blades – the blades made of stainless steel ensure they are always sharp and ready for action. In addition, these are very easy to clean.
Pop-up trimmer: Enclosed in the package is a trimmer that is perfect for your mustaches and sideburns.
Illuminated LED screen: The screen is illuminated for excellent control. You can clearly be able to see the battery levels, the shaver timer, a cleaning reminder, and a blade and foil replacement.
Why we loved it:
This machine was able to deliver more than anticipated. The neck is definitely a difficult and sensitive area, and the machine worked great with the focus group. They reported great results after using it and the area was clean and smooth.
The best feature that resonated very well with the group was also the pop-up trimmer. Most of them were able to clean up their necks and in addition, they groomed their sideburns and mustaches with this trimmer which was extremely effective.
The blades were a winner as well. Not only were they clean and sharp. It didn't take much to get them to shine. This shaver needs you to only run it under some warm water and then wipe it down with a dry cloth and voila! It is clean and shiny.
11. Panasonic ES2216PC – Best for women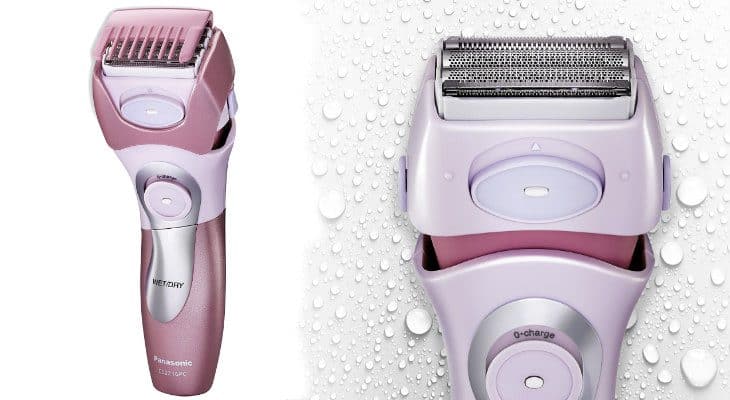 Women love to feel clean and fresh at all times, and this electric shaver, specifically designed for women will help them achieve the full body grooming they have been searching for. It is designed to deal with curves and maneuver all areas of their bodies including the pubic hairs.
Here's why we picked this shaver:
Shave anytime anywhere: Whether you use it in the shower or on the go, this cordless electric shaver that comes with a pop-up trimmer will achieve what you need every time.
It is able to closely contour your legs, underarms and bikini area effortlessly and give a smooth finish.
The wet and dry shave is extremely convenient when you want to do all of your grooming in the shower. Most people do this, but you can also shave outside as it has a dry option.
It comes with 4 ultra-sharp blades for optimum closeness.
It is hypoallergenic for the sensitive woman and very gentle on your skin. For those sensitive areas such as the underarms and bikini area, you will appreciate this feature as it means the shaver will not irritate the skin after use.
Pop-up trimmer for the bikini. Attached is the packaging is a trimmer for your most sensitive area. It will quickly and comfortably shave your pubic hairs and leave you smooth.
Excellent design: Women love beautiful things and this machine comes in a beautiful color and elegant design that you will just love keeping in your washroom at all times.
Easy to clean. It is very easy to clean, just place it under running water and leave it to dry.
Why we loved it:
This is a great machine and almost all women in the focus group took it home. Not only did it deal with those sensitive areas very sensitively, but it also did not cause any skin irritations and there were no reported cases of pain after use.
It helps with full-body grooming. The women in the focus group especially loved that you can use the same shaver on the underarms, eyebrows and pubic area. It was versatile and very well received.
Easy to use – the machine is very easy to use. You simply charge it and when ready push a button and you are good to go.
12. Braun Silk-épil Bikini Trimmer Styler – Best for bikini area

Now, this is specifically designed for the bikini area and this is due to its perfect shape. It comes with a high precision head that ensures you cover all the bases. No area is left unattended by this shaver.
Here's why we chose it:
It's in the details: The design allows you to choose the length you want between 5mm and 8 mm. This gives you so much control if you do not want a Brazilian shave. – this is a complete shave.
Shape- the shape of the head is designed to be handled like a pen which gives you maximum room to do what you want with it. You can even make patterns on your pubic hair as you shave it closely and smoothly.
Rounded tips: The tips are nicely rounded to protect your skin against nicks and cuts.
Slim shaping head – this is excellent as it allows you to move around as much as you want.
Eyebrows shave – the shaver is small and sharp pointed which makes it ideal for shaving your eyebrows as well.
Why we loved it:
This machine-scored very high with the focus group and it was able to deliver more than they expected and had anticipated. The shaving was very smooth, with no irritations and also, they were very pleased by the fact that they could shave their eyebrows as well with the same shaver.
The length control was another reason why this shaver was very famous. The users were able to determine how long their pubic hairs were going to be if they did not want to do a complete and smooth shave.
13. Braun Silk-Epil 9 – Best for women's legs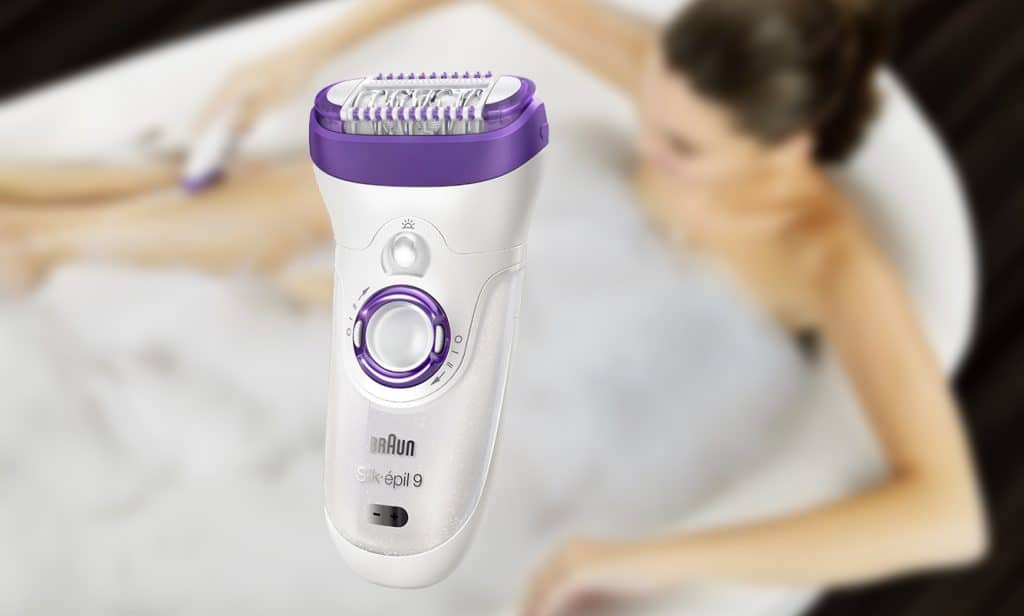 For your legs, you need a machine that will leave the hair free and extra smooth. This shaver is designed for exactly that. To remove all hairs from your legs and give you a very close shave in the process.
Here are some of its other great features:
This machine is able to remove a lot of hair using just one stroke. It will also help your legs to be hair-free for up to 4 weeks.
Wet and dry option; this is one of the best parts of it. You can groom while taking a shower and use your shaving cream to prevent any sort of irritation.
Pulsating vibrations – it comes with active vibrations for an excellent and gentle result.
The pivoting head smoothly adapts to the contours of your leg and captures hairs even at the back of your knee and calves.
The smart light helps to illuminate the uncut hairs for a thorough hair-removing experience.
It makes use of the tweezer technology that ensures to shave deeper and longer. As a result, you are able to get rid of virtually every single hair on your legs.
Accessories: It comes equipped with lots of accessories such as – a shaving hear, a high-frequency massage cap, a trimmer cap, a charging stand, and a facial brush.
Why we loved it:
There were very many points that resonate with the focus group. This was definitely a winner for the women that used it. What they loved most was;
The ability to get very smooth legs.
The ability to shave in the shower.
The ability to keep the hair off for almost 4 weeks,
The smart light ensured no hair was left unshaved.
For these reasons, it was a big winner with the focus group.
14. Butterfly Pro 5h – Best for a teenage girl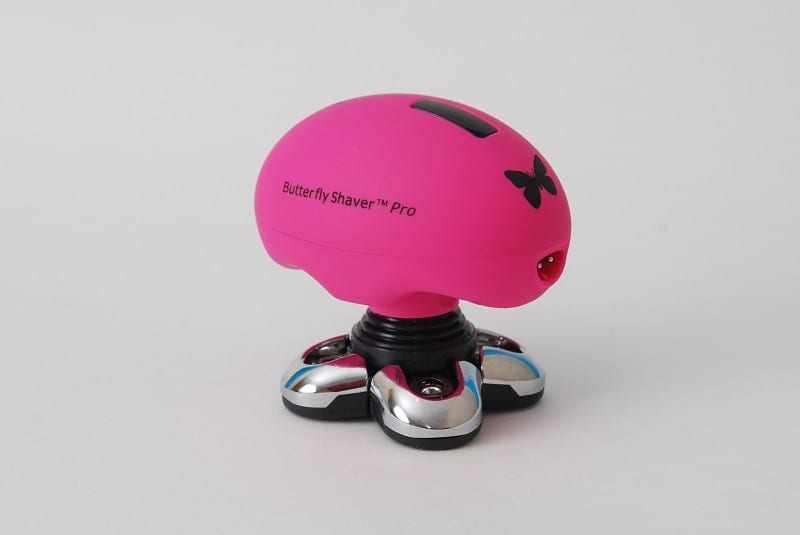 The teenage girls we used in the focus group loved this shaver so much, because it did not look like a shaver at all, but rather a cute little pink toy they could keep in their handbags. This shaver is designed for the girl that loves the color and loves cute things.
The features that made us choose it are;
It comes in a very beautiful design and anyone would love to have it in their bags, and most especially the teenage girls.
It is designed for body shaving and with the patented design, the rotating heads are able to reach almost all areas of the body. In addition, it is very small so you can move it wherever you want it for a clean shave.
It is ergonomically designed. The handle is easy to hold and it fits perfectly in your hands. This makes long grooming easy and comfortable.
With 90 minutes of use after charge, you can simply put it in your bag and travel stress-free, since you are assured it will not go out on you.
It comes with a UL certified 110-240 voltage that allows you to use it anywhere in the world.
Why we loved it:
For the teenage girls, we used in this focus group, they all loved the shaver and gave it the following remarks;
It is compact and lightweight.
It is easy to use.
It gives a great shave.
Ideal for the girl on the go.
Can be used anywhere and at any time.
It was a big hit and came highly recommended.
15. Braun Series 3 – the Best budget choice
When it comes to Braun shavers, it really doesn't matter which one you have, they all work great and give excellent results. This one is budget-conscious but it still delivers better results compared to some high-priced electric shavers.
Here are some of its other features:
It uses micro comb technology in order to catch and shave more hair per stroke.
The design may be simple but the performance is outstanding. It works straight and makes use of even strokes for a very smooth finish.
It is specially designed to deal with sensitive skin, and it comes with a protective mesh that ensures no skin contact.
With the advanced shaving elements, it ensures a close and gentle shave. This also has the sensor-foil technology to protect your skin from irritations.
The blades are designed to automatically retract from your skin, and this ensures you do not have any incidents of nicks and cuts.
The built-in precision timer is specially designed for your sideburns and trimming your beard to perfection.
The intelligent design allows the precision head to move easily and reach those difficult areas such as under the nose.
It is 100% waterproof and allows both wet and dry shaving.
The premium battery will allow up to 45 minutes of use.
Why we loved it:
This is a Braun shaver, and the focus group was extremely happy to try it out. It did not disappoint, the shaving was smooth, gentle and clean. This shaver ensured that they could shave even the smallest hairs on their faces, and gave them enough ability to move about and cover all bases.
The built-in trimmers came in handy for the bearded and sideburns focus group. They were able to perfectly trim and shape their sideburns for an elegant look.
The freedom to use it either wet or dry was very well received.
The blades did not touch their skin and this is what caused this shaver to be one of the best electric shavers for the money – budget wise.
16. POVOS – Best for USB charger
If you are a traveling business professional that is always on the go, then there must be times you probably forget to do some much-needed grooming. With this USB enabled electric shaver, you no longer have to look disheveled and unkempt. You can easily carry it along with you wherever you go and simply plug it into your laptop for charging.
Here are the reasons why we chose this shaver:
It is USB powered: You can finally say goodbye to carrying bulky power cords. This shaver is very easy because all you need to do is plug it into your computer or power bank and you are good.
3-directional floating heads – this electric shaver sort of floats all over you and ensures to follow the contours of your face for a close shave around your neck and chin.
The ultra-sharp blades are non-corrosive and do a great job of shaving quickly through your mustache and beard.
The pop-up trimmer will help work on your sideburns and style your mustache as well.
It comes with indicator lights to show you when you need to replace the cutters or the shaver heads. This also goes on every 30 minutes to remind you to clean the machine.
It comes in a leather package that is ideal for presents.
It comes with a travel lock that you can use to control its electricity consumption.
Why we love it:
This is a shaver that is very convenient. For the focus group, we picked business professionals who found it to be extremely beneficial especially with their schedules. The ability to charge the shaver anytime anywhere was the big winner.
The cleanup indicator was another great feature. A clean shaver is very hygienic and protects you against acne and other skin irritations. This shaver kept reminding the members of the group that it was not cleaned yet.
The shaver was also very fast which was a great point to note.
17. Braun M90 – Best portable electric shaver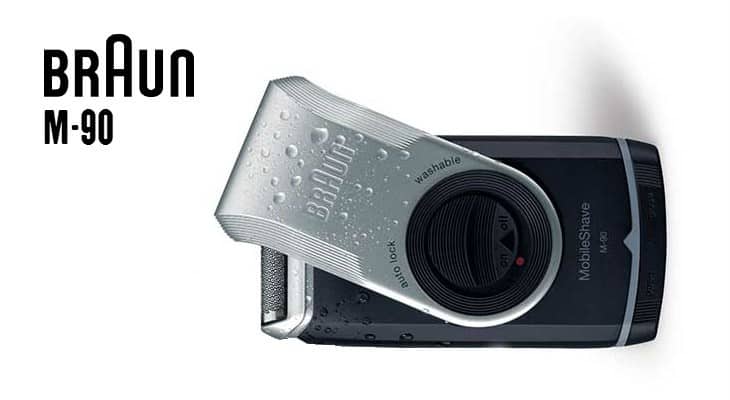 This is an excellent shaver that is designed specifically for traveling. It doesn't hurt that it is also a Braun shaver.
Here's why we chose it:
Compact design: It is actually smaller than other electric shavers and can actually fit in your trouser pocket.
It is battery operated: When traveling this is the best option since you do not want to be bothered by voltage issues. Batteries are universal and you can find them anywhere.
It has a wide foil head that is able to float easily over your face for a comfortable shave.
It is easy to clean. After use, simply hold it under running water and wipe with a clean cloth.
It comes with a precision trimmer that is perfect for dealing with sideburns and mustaches.
It has a twist cap that is normally used to protect the foil when it is not in use. This also works great when you are traveling.
Why we love it:
The focus group loved this shaver because of its size. It was so small, most of them were able to carry it in their pockets. It also comes in a beautiful and unique design.
It came with a precision trimmer that was a big hit for those with mustaches and sideburns.
How We Picked The Best Electric Shaver?
We searched manufacturer's websites and numerous selling stores as well as consumer reports to find the best-selling electric shavers in the market today. In addition, we came up with some focus groups and tried to understand what to look for when buying an electric shaver.
Here's what we found.
How do they work?
Electric shavers work more like a pair of scissors than the standard razor. This is because, with a traditional razor, the blade normally cuts through each hair as it passes over it, while, with the electric razor, the blades cut the hair when they shear against a metallic grating that allows only hair to pass through and not skin.
Very similar to the scissors that cut any hair passing through the metal grating.
What you will love most about the workings of an electric shaver is that you do not need the water or even shaving cream. It works on its own using the following two techniques;
Oscillating heads
Spinning/revolving heads
To understand this better, we need to look at the 2 main types of Electric Shavers.
Foil Shavers.
Rotary Shavers.
Foil shavers
These shavers normally have a thin metallic foil layer covering the blade. They also have holes and slots that you can see clearly through the layer. In addition, they use oscillating blades, or what you would call cutters to cut hair, and these are found beneath the foil.
The foil is basically a thin layer of metal that is holed in order to make a particular mesh pattern. When you use this electric shaver, the foil normally captures the hairs with its holes and cuts very close to the skin. This is what gives you that close-shaven look, and the reason why these shavers are very popular.
They have actually been around for centuries, and in fact, they are some of the first-ever electric shavers to be invented.
One of the greatest drawbacks with a foil shaver is that it is very difficult to maneuver the contours of your face and you may not be able to reach those hard to reach areas such as the chin and the neck.
This is because you cannot use them in a circular motion as they are rectangular in shape. You can only do an up and down movement. Rotary shavers, however, allow the circular motion and hence they are perfect for the neck and chin.
Another drawback is that they are quite noisy and this can be a bit irritating especially in the morning.
They are however still extremely effective in giving a very close shave, and they tend to be cheaper than the rotary shavers.
Rotary Shavers
These are considered to be the best type of shavers. They normally have circular heads with an internal cutter that is used to cut the stubble. This is then captured by the outer stationary guard on the shaver.
They are designed to closely follow the contours of your face and they move in a circular motion. The hairs then fall into annular grooves which are then cut off by the tiny scissor-like blades on the shaver.
This circular motion technique makes it very easy to maneuver those very difficult areas such as the neck and the chin.
The head of the rotary shaver has 3 discs. This is where the razors are. These razors normally spin around at an incredibly high speed in order to cut your beard. They also have the ability to bend and contour your face.
Unlike the foil shavers that can only be used in an up and down motion, rotary shavers allow you to go around and around.
The foil shavers will however still give a closer shave on your cheeks compared to rotary shavers.
DO NOT use this shaver in an up and down motion because you may end up having a terrible experience since it will pull the hair instead of cutting it.
How do you know which one to choose? Rotary or foil?
This really depends on what you want, and since each shaver has its own unique features and benefits, it may be hard to choose. To help you out, here are a few points about each type of shaver and where they are best suited.
Rotary shavers are ideal for;
Tough skin – if you are older and have probably been shaving for a while.
Thick/coarse hair.
People who do not shave every day.
Long hair or if you have not shaved in a couple of days.
When you have some contours to navigate.
When your beard has grown in different directions.
Skin that is not too sensitive.
Foils shavers are best suited for;
People who want a really smooth shave.
People who shave every day.
People with very fine hair.
People that need some serious precision like if you have sideburns.
People that need a close shave on their cheeks.
People that have straight lines.
Wet and dry option
This is another important consideration when it comes to electric shavers. Most shavers do tend to be battery-operated, and this allows you to use them comfortably and safely in the shower.
One thing you are going to find when shopping for an electric shaver is the mention of wet & dry for some, while others will probably make no mention of this.
Now, a wet electric shaver doesn't only mean that you can be able to use it in the shower. There's more to this. It means that you can also be able to use shaving cream while shaving. This is perfect for people with sensitive skin.
So, if you were thinking that you can't possibly use an electric shaver because you have a medical condition with a prescription for shaving cream, you can now rest easy because all you need to do is buy one that is clearly marked wet shave.
Another benefit of buying a wet shaver is that it allows you to get very close to your skin and achieve that clean-shaven look.
The downside to this type of shaver is the added cost of having to buy shaving cream and it also requires the blades to be extra sharp at all times. As a result, it may cause a few nicks and cuts every now and then, so, be careful.
On the other hand. Dry shavers cannot be used in the shower nor can they be used with shaving cream.
These shavers tend to be very fast since there aren't any preliminaries and in addition, they cause less irritation to the skin.
Their main problem is that you can never shave very close to the skin as they are designed to shave above the surface.
Speed
The speed of an electric shaver is normally measured by RPM or Revolutions per Minute. You can also use Cycles per Minute CPM. The motor inside the machine is what is normally measured.
Basically, you will want to get a shaver that is very fast. A fast, electric shaver also means you get to make fewer strokes and get less tired.
Look for a shaver that has a speed of more than 11,000 RPM.
Power type
Electric shavers are normally powered in different ways. Here are a few examples;
Corded: In this type, you must plug in the shaver into a power source in order to use it.
Cordless: This shaver is similar to the corded one, meaning that they come with a power cable, but, the difference between the two is that with a cordless electric shaver, you can charge it in advance and use it without connecting to a power source.
They actually allow you to charge them for a very short time and you are good to go. When fully charged, they can keep going for a long time, sometimes even an hour.
Battery operated: As the name suggests, these shavers use batteries for operation. They are actually not very common nowadays, due to advancements in technology. But you will find a few models with this option. They used to use AA or AAA batteries which needed to be changed often.
It is important to choose a power source that will make your work easier. A cordless electric shaver is always a great idea.
Ease of cleanliness
An electric shaver that is easy to clean helps you prevent acne. People with sensitive skin can also get some serious infections if they do not use clean shavers often.
The cleaning method depends on the type of shaver you have. Foil shavers tend to be easier to clean compared to the rotary shavers because they have fewer parts. Ensure the foil is always well protected when cleaning the shaver.
The high-end electric shavers normally have a docking and cleaning station attached. This is also called a clean and review. These cleaning stations help in keeping the shaver clean at all times.
The dock will clean the head of the shaver with alcohol, lubricate the blades, charge the shaver, and even dry it.
What you do is simply keep the shaver in the cradle and click a button.
This cleaning station, however, comes at an extra cost, and most people are usually torn between whether it is really worth it or not.
If you can afford it, this is a good idea, because they are very thorough in their cleaning process.
Every cleaning station, however, needs to have a cartridge to be inserted for the alcohol and lubricants, so, keep that in mind.
Cost
Cost is a factor to consider because they don't come cheap, and of course, the high-end shavers can actually be quite expensive. Take time with your research and savings so you can be able to acquire the best in our list below.
The better the shaver, the more expensive it is, and also the more durable it shall be.
Accessories
Some of these shavers normally come with quite a number of accessories such as;
A beard comb – If you love to have a bit of stubble on your face, then you will appreciate an electric shaver that comes with a small comb attachment. This will help you keep your beard well-groomed at all times.
LED display – Some will come with a display panel that can clearly tell the status of the battery, and they may also have a red/green indicator for when the battery is full or needs to be charged.
Trimmer – This is perfect for sideburns and mustaches. It will help you manage them better if you do not want a clean-shaven look.
A timer – This helps to calculate the length of time needed to shave your head or beard for excellent results. Some shavers do come with this great feature.
A Travel pouch – this is very important for storing your shaver. Remember, for it to last long, it must be kept safe and you can also make use of it when traveling.
A USB port – This allows you to charge your electric shaver from a USB port. On those days you are in a hurry and your shaver has no charge, this is a great feature, as you can even charge the shaver on your laptop and groom yourself on your way to work.
The frequency of use
The frequency of use will also determine the electric shaver you are going to buy. While this may not be a very important point, there are some shavers more suitable for everyday use, while others are suitable for occasional use.
An electric foil shaver is perfect for everyday use, and more so for people with sensitive skin. The reason behind this is that the foil protects against direct skin contact and hence you find that the skin is never irritated or bruised.
If, however, you have a long beard, this is not suitable.
Rotary shavers are ideal for people with long hairs or people who want to deal with hair on their necks and chins. They also work best for people who want to maintain a specific beard length.
Care and maintenance of the shaver
For these shavers to serve you for a long period of time, they must be well maintained. For the foil shavers, you will need to replace the blades at least yearly, and so, when you are buying the shaver, ensure to get another set of blades and foils from the seller.
Rotary shavers will require the heads to be replaced. Find out while buying where you can have them purchased and if they are actually available.
Mobility
An electric shaver should not be too heavy to carry. You should be able to comfortably move around with it especially when traveling.
Also, a heavy shaver makes it hard for you to do your grooming, so, a lightweight machine that is highly portable comes highly recommended.
Final Thoughts
While you may be tempted to think that electric shavers are way too expensive and you probably do not need one because your everyday razor is more than sufficient, this is a wrong assumption. Razors are actually more expensive compared to electric shavers.
Granted, an electric shaver will require an initial investment of close to $250 or more depending on what you are going to get. But, with frequent replacements, you may spend almost the same amount of money or even more on razors.
Here's the catch. You will spend $250 on an electric shaver once, and be able to use it for at least 5 -7 years, but a razor can only be used for a short period of time, so, you will be spending the $250 per year on replacements.
Add that up and the electric shaver is definitely a cheaper investment in the long-run. It also causes no skin irritations, it is easy to use and you do not get as many cuts and nicks. So, go ahead and get yours today.
Now if you are new to electric shavers and have absolutely no idea which one to buy, we recommend you start with the Braun Electric Shaver, Series 7 790cc. This is one of the best shavers, and it is sure to give you a great first experience.
If you occasionally suffer from terrible acne as a result of constant shaving, there is hope for you yet. We Recommend the best rotary shaver – Philips Norelco Electric Shaver 9700, S9721/84. It offers you the option to use it in the shower with your shaving cream in order to get rid of the rashes.
For the budget-conscious, one of the best shavers for the money has got to be the Braun Electric Shaver, Series 3 ProSkin 3040s. They say that it's always a good idea to own a Braun shaver, and this offers a great opportunity to have it in your bathroom.
And for the professional woman, you can never go wrong with the Panasonic Electric Shaver ES2216PC. It will blow your mind. Not only does it deal with your bikini area, but it is also perfect for the whole-body grooming including your underarms and legs. The perfect all-in-one shaver.